As you are aware, most of the world have been put on 'lockdown' to stop the spread of coronavirus or COVID-19, limiting your extracurricular activities to watching Netflix or doing that DIY you said you would do six months ago. Well, put that paint brush down, we've got a better idea- instead of becoming complacent and stagnant at a time like this, you can develop you're your 'Skill of Quality', which is a necessity for all of us, and make 'Working from Home' a breeze!
You can Upskill in Lockdown to get some Value-Adding & Career Oriented Courses while you're confined to your own four walls. All you need is an hour or two a day- I'm sure we all can spare this time as now we're no longer commuting.
What is Upskilling?
Upskilling means learning new skills and enhancing competencies. In the fast-paced world like today's, upskilling has become a buzzword. The technological advancement and the emergence of artificial intelligence have made skill enhancement inevitable so as to be at par with the industry standard. Companies are investing heavily on their employees to upskill them so as to increase productivity and survive in high competition.
"Upskilling is an effective tool that helps employees to secure their tenure, get a promotion, and grab the opportunity of growing into managerial roles in the organization."
Why Upskilling is important?
The digital economy, enabled by astonishing advances in technology, is reimagining the Provider-Customer Dynamic and Transforming how goods and services are bought and sold. Customer-centric, Tech-enabled, Well-Capitalized, new model providers are disrupting incumbents across industries.
They share several core characteristics such as a relentless commitment to improve customer access, experience and loyalty; the efficient use of data; achieving 'more with less' for the benefit of customers, employees and shareholders; and constant improvement. Their models are built from the customer perspective, not to fit the provider economic model.
This sea-change means that many traditional jobs are morphing into something different or disappearing altogether. Upskilling is the process of preparing the workforce to fill these new positions. To borrow from Wayne Gretzky, upskilling is instilling competencies that enable workers and companies to 'skate to where the puck will be'.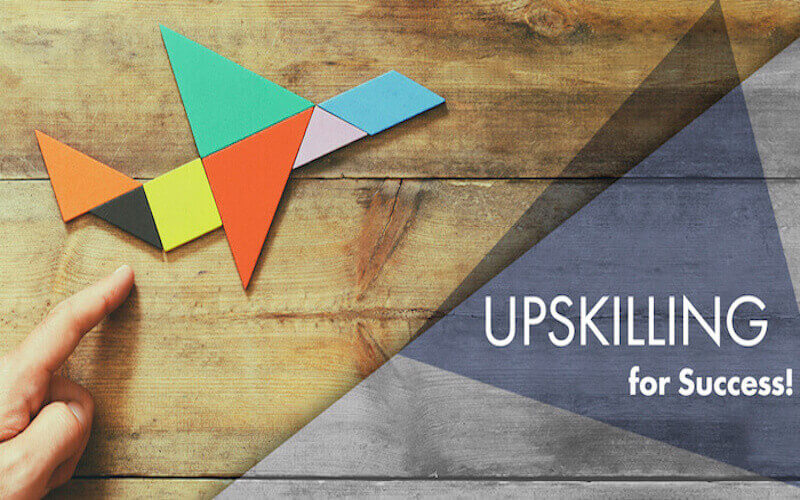 Skill Gap and Opportunities
Currently, not only in India or the USA but globally, the unemployment rate is very high despite the availability of a good number of opportunities that remain vacant for long. This mismatch is famously termed as a Skill Gap where there is a visible gap between the number of vacancies that require new skills and the able candidates to be placed in those positions.
The India Skill Report of 2019 denotes that only 45.6% of the graduating youth are actually employable. The reason behind this is that a large number of the workforce doesn't either possess relevant Knowledge and Skillset or doesn't qualify for those available job opportunities. It happens due to a lack of relevant skills or unwillingness to upgrade to match the new industry standards.
Why to Upskill NOW?
Due to the spread of Coronavirus, most of the colleges & universities are closed and workplaces have announced WFH- Work From Home. So if you're starting to get bored without contact with the outside world and looking to challenge your mind with something other than games and films, then this is the best time to Upskill yourself to get Certified with Skills in Demand and grow faster in the career than ever before. So what are waiting for? Unlock this Lockdown by taking a decision now and start learning.
Upskilling and Lean Six Sigma
While most counselors would advise to learn industry-specific skills which is logical as well but isn't it more logical to learn a 'Skill of Quality' which we often miss or ignore even though Quality is everywhere.
Starting from the nip of a pen to a highly advanced spacecraft, Quality is what everyone wants but only 'some' of us try to learn it from the core. Be smart and be the part of this 'some' to learn the skill of Quality through one of the most renowned Quality Improvement Methodology i.e. Lean Six Sigma! Being the fundamental, Lean Six Sigma is a one of the Skills high in demand, domestically & globally too.
Lean Six Sigma and e-Six Sigma
e-Six Sigma is an Award-Winning Online Lean Six Sigma & Quality Management Training & Certification Platform offering Learning Opportunities with Practical Experience through Uniquely Designed AWYL-Apply What You Learn Activities with Personalized Feedback by Experts, helping you get an International Certificate with Lifetime Validity.
e-Six Sigma has recently launched the upgraded version of Lean Six Sigma Black Belt with Functional Certificate Program accredited by Council for Six Sigma Certification i.e. CSSC (USA). Click here to know more about the course.
You can also read this short article on 'What is Six Sigma Functional Certificate' to know its significance than a regular Training Completion Certificate.