Lean Six Sigma Black Belt Training & Certification
Overview
A Lean Six Sigma Black Belt leads the improvement team and is competent in managing a team and using various improvement and statistical tools. Lean Six Sigma Black Belt certification demonstrates one's ability to deploy these skills in enterprise-wide projects.
With this course, you will be able to implement the concepts of Lean, Design for Six Sigma (DFSS), Six Sigma Define, Measure, Analyze, Improve and Control (DMAIC) and Total Productive Maintenance (TPM) using statistical tools and analysis.
This course offers International Functional Certificate instead of Regular Training Completion Certificate. Functional Certificate is generally issued after Successful Completion of a Six Sigma Project. Our Award-Winning Training Model based on globally renowned 70-20-10 Model of Learning facilitates AWYL-Apply What You Learn Activities which are considered equivalent to Six Sigma Project so that, you don't require to submit Six Sigma Project separately to claim your Lean Six Sigma Black Belt Functional Certificate.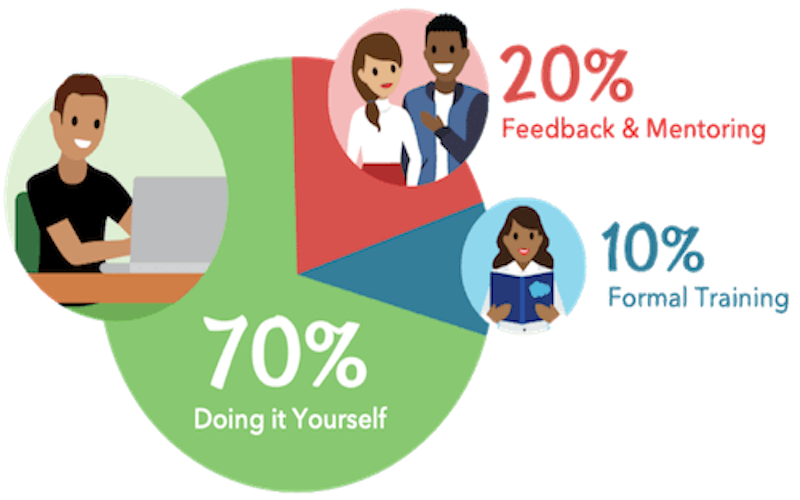 Accreditation
Lean Six Sigma Black Belt Course is accredited by the 'Council for Six Sigma Certification (CSSC)'. It is an USA-based Official Industry Standard for Six Sigma Accreditation for Six Sigma Training Providers world-wide. The accreditation to our course can be verified at- CSSC Website.
Highlights
Internationally Accredited Functional Certification by CSSC (USA)
Unique AWYL Activities equivalent to Formal Six Sigma Project
Latest Curriculum aligned with Body of Knowledge of CSSC (USA)
High Quality e-Learning Videos & Study Material with Real-Life Examples
Personalised Feedback for Every AWYL Activity to identify Improvement Opportunities
Live Chat with Experts for Real Time Learning Assistance
100% Passing Assurance in Proficiency Test with 5 Complimentary Test Credits
24 x 7 Prompt & Learner Friendly Support
Learn Now & Pay Later using EMI Facility
Curriculum
The Curriculum for Lean Six Sigma Black Belt is distributed over 42 Topic-wise Chapters as below:
| Sr No | Chapter Title | Key Topics |
| --- | --- | --- |
| 1 | Introduction to Six Sigma | Consistency & Accuracy, Variation & Sigma, What is Six Sigma & its Significance, History, Introduction to D-M-A-I-C & D-M-A-D-V, Benefits of Six Sigma |
| 2 | Introduction to Lean | Continuous Improvement Approaches, Jidoka Principle, Lean Concept, What is Waste & Muda, Five S, Just-in Time Manufacturing |
| 3 | Six Sigma Project & Team Dynamics | What is Six Sigma Project?, How to identify a Project?, Forming a Team, Performance Management & Evaluation |
| 4 | Quality is WOW-Tea! | What is Quality, Definition, Dimensions, Quality Management, Introduction to ISO |
| 5 | Project Charter | What is Project Charter?, Components, Importance, Benefits, Reviewing of Project Charter |
| 6 | Voice of Customer (VOC) | What is VOC & its Forms, VOB, VOP, What is CTQ?, Who are Customers?, How to convert VOC into CTQs |
| 7 | Project Management Tools | Gantt Charts, Toll-Gate Review, Work Breakdown Structure (WBS) |
| 8 | Define Tools | What is SIPOC & its Components, Application, What is Cost of Poor Quality (COPQ) & its Types, Tollgate Checklist for Define Phase |
| 9 | Quality Function Deployment (QFD) | What is QFD, How to Implement QFD?, Benefits, Application, House of Quality |
| 10 | Kano Model | What is Kano Model?, Customer Preferences, Empirical Measurement, How to Use Kano Model?, Benefits |
| 11 | Data & Sampling | Data & Information, Types of Data, Data Collection Plan, Sampling, Sampling Methods, Sampling Plan & its Types |
| 12 | Basic Statistics | Source of Variation, Statistical Terms- Mean, Median, Mode, Standard Deviation, Variance, Measure of Location & Speed, Range, Deviation, Data Frequency Plot, Introduction to Normal Distribution |
| 13 | Measurement System Analysis (MSA) | What is MSA & its Components, MSA as Starting Point, Why to Perform MSA?, How to Perform MSA? |
| 14 | Probability | What is probability?, Probability Line, Theory of Probability, Terminologies used in Probability |
| 15 | Data Distributions | Data Distributions such as Normal, Bernoulli, Uniform, Binomial, Poisson, Exponential, etc |
| 16 | Intermediate Statistics | Central Tendency, Dispersion, Concept of Sigma Shift, Baseline Data |
| 17 | Process Capability | What is Process Capability?, Process Capability Indices, Process Performance Indices, Process Capabilities (Yield- Y) Values, Short & Long Term Capability |
| 18 | Failure Mode & Effect Analysis (FMEA) | What is FMEA? Components, Risk Priority Number (RPN), Why/ When/ How to Perform FMEA?, Benefits, FMEA Sheet |
| 19 | 7 Quality Control Tools- I | Cause & Effect Diagram, Check Sheet, Histogram, Scatter Diagram |
| 20 | 7 Quality Control Tools- II | Pareto Chart, Control Chart, Run Chart |
| 21 | Introduction to 5 Lean Principles | 5 Lean Principles- Identify Value, Map the Value Stream, Create Flow, Establish Pull, Seek Perfection |
| 22 | Application of 5 Lean Principles | Application of Lean Principles, Examples |
| 23 | Lean Management | Philosophy behind Lean Management, Lean Management, House of Lean, Stakeholders of Lean Management, Lean Management Tools, Lean Leadership, 6 Key Traits of Lean Leader |
| 24 | Relationship between Variables | What is Variable & its Types, Correlation & Dependence, Correlation Coefficient, Why & Where to use Correlation, Correlation & Investments in Financial Markets, Application |
| 25 | Hypothesis Testing- Parametric | What is Hypothesis Testing?, Why to use it?, Introduction to Parametric Tests as- Student's t Test, Analysis of Variance (ANOVA), z Test. |
| 26 | Hypothesis Testing- Non-Parametric | Introduction to Non-Parametric Tests such as- Chi-Square Test, Fisher's Exact Test, McNemar Test, Sign Test, etc, Spearman Rank Order Correlation Coefficient |
| 27 | Value Stream Mapping | What is Value Stream Mapping (VSM)?, 7 Types of Waste, Waste Removal Operation, Application, Use in IT & Software |
| 28 | Regression Analysis | What is Regression Analysis? Difference between Correlation & Regression, Types of Regression Analysis |
| 29 | Analysis of Variance (ANOVA) | What is ANOVA?, Models of ANOVA, Introduction to MANOVA, Statistical Significance |
| 30 | Analysis Methods | Analysis Methods such as GAP Analysis, Root-Cause, Waste Analysis, Their Process to perform & Benefits |
| 31 | Brainstorming | What is Brainstorming? Benefits, It's various methods & their Application & Examples |
| 32 | Six Hats Technique | What is Six Hat Technique?, Application & Example |
| 33 | Design of Experiments (DOE) | What is DOE?, History, Components, Purpose of DOE, When & Who to use DOW?, Fisher's Principles |
| 34 | Improve Tools-I | Solution Prioritization, Cost-Benefit Analysis (CBA), Piloting & Validating, Designing Pilot Plan |
| 35 | Improve Tools- II | Theory of Constraints (TOC), 5 Steps on TOC, Change Process, Overall Equipment Effectiveness (OEE) |
| 36 | Five S | Workplace Management, Introduction to Five S & its phases, Benefits of Five S, Application, Example |
| 37 | Statistical Process Control (SPC) | What is SPC?, History, Benefits, Application |
| 38 | Control Charts | Introduction to Control Charts, Types- X-bar R Chart, X-bar s Chart, c-Chart, u-Chart, np-Chart, p-Chart |
| 39 | Control Tools | Total Productive Maintenance (TPM), Visual Controls, Measurement System Re-Analysis, Control Plan, Documentation, SOP, Training to Employees & its Evaluation |
| 40 | Design for Six Sigma (DFSS) | Introduction to DFSS, DMADV, IDOV, DCCDI; DMAIC vs DFSS, DFSS in Software Industry, RADIOV |
| 41 | Introduction to Minitab | Minitab Software Installation, Introduction to Minitab & how it works?, Projects, Basic Statistics using Minitab |
| 42 | Minitab Application | Describing of Data Numerically & Graphically, Sampling, Normal Distribution, Hypothesis Testing, Box-Plot |
Eligibility
There is no specific eligibility criteria for enroling to Lean Six Sigma Black Belt Course. Anyone who has a flair for learning Six Sigma can enrol.
However, it is preferable that the applicant is at least a graduate. Knowledge of Basic Statistics is a plus.
Training Model
e-Six Sigma honoured with an award for its innovative 'Training Model' which is based on Globally Renowned 70-20-10 Model of Learning that states an individual learns 70% by doing it By-Self (Experience), 20% by Mentoring & Feedbacks (Exposure) and 10% through Formal Training (Education).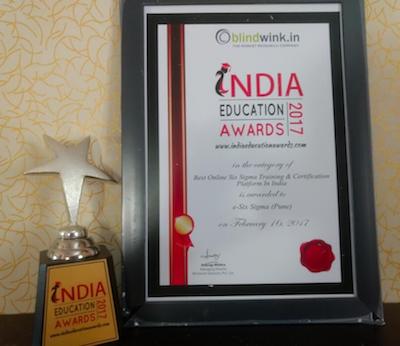 The curriculum is divided into 42 Topic-wise Chapters which consist of 3 sections each as:
e-Learning Videos: Short-length, Attractive & Easy to Understand
Study Material: Enriched with Additional Real-Life Examples for Better Understanding
AWYL i.e. Apply What You Learn Activities: Equivalent to Six Sigma Project
These AWYL Activities are thoughtfully designed by the Industry Experts to allow the Learners to gain practical exposure through Role-Plays, Calculations, Research Tasks, Data Collection, Presentations, etc. One has to perform similar activities in any Six Sigma Project and hence they are considered as Equivalent to a Formal Six Sigma Project.
Further, these AWYL Activities are assessed by a Team of Experts to provide their Personalised Feedbacks & Follow-ups ensuring Tangible Improvement.
Each AWYL Activity carries a weightage of 5 points to be considered for Final Certification.
After completing all 42 chapters, the trainee needs to appear for the Proficiency Test which is of Multiple-Choice Pattern carrying 1 point each. Total points for the Test for Black Belt are 140.
Depending upon the consolidated scores out of Toal 350 Points in AWYL Activities & the Test, a Grade (A+, A, B+, B, C & D) is automatically assigned to a Lean Six Sigma Black Belt Functional Certificate, which can be generated immediately in PDF format after the Test. You can request physical copy of the certificate by paying a nominal amount.
Exam & Certification
After successfully completing the Training & AWYL Activities over 42 Chapters, the Learners need to appear for the final Proficiency Test which is of Multiple-Choice Pattern carrying 1 point each. Total points for the Test for Black Belt are 140. Immediately after the Test, the learners will be issued Internationally Accredited Lean Six Sigma Black Belt Functional Certificate by CSSC (USA).
We do not believe in PASS/ FAIL system and hence we provide a Certificate to everyone who put efforts to learn Six Sigma. If the trainee is not happy with the grade secured, he/ she can re-appear for the Test WITHOUT PAYING EXTRA AMOUNT. We offer 5 Test Credits as Complimentary to every trainee.
Duration
Once you enrolled, the e-Learning Account remains ACTIVE for 180 Days or 6 Months to access Learning Resources as per YOUR Time Convenience & Pace of Learning.
The feedbacks from the past learners suggest that the duration is quite sufficient to complete this course.
Fee
The fee for Lean Six Sigma Black Belt Training & Certification Program inclusive of e-Learning Access for 180 Days, Study Material, AWYL/ Project Assessment, Proficiency Test & International Functional Certificate:
INR 39,999 INR 24,999 (For Learners within India)
USD 699 USD 399 (For learners outside India, Request a PayPal Payment Link here)
Enrol NOW and get EXTRA BENEFITS as:
No Extra Fee for Six Sigma Project
5 Complimentary Test Credits
Pay in Easy Instalments
Attractive Group Discounts (Minimum 3 People)
It was great learning with e-Six Sigma! I have learnt some excellent skills & techniques for Quality Management through this training, perhaps learning program. It was easy to understand & provided me with hands on experience on each topic. I really appreciate the efforts by e-Six Sigma to make us understand the minute details on the topics.

Ancy Oommen

Fraud Analyst | Quinte Financial Technologies

My experience with e-Six Sigma was fabulous! It's being managed professionally by true professionals. The primary USP of the course was AWYL- Apply What You Learn Activities. It helped my apply my learning practically. The feedback mechanism was spontaneous and following it helped me improve. Also, the video and the study material was up to the mark. Overall, my experience with e-Six Sigma was great!

Avishek Patra

Project Manager | SFAL

Kudos to e-Six Sigma team. I had great learning experience with them. I pursued Lean Six Sigma Black Belt. About support, Vishwas from e-Six Sigma was very friendly and quick to respond to all my queries. The content of the course and the delivery method based on 70-20-10 Model of Learning was really great. I would strongly recommend e-Six Sigma to all who wish to pursue Lean Six Sigma Training.

Prashanth Vaidya

Sr. Manager- Service Delivery | Consero Global

Learning with e-Six Sigma was exhilarating & exciting journey. The Assessment of AWYL Activities by Experts gave me an in-depth understanding of the tools & their applications. 42 Chapters for Black Belt were systematically designed. The Support System made my Learning Process a smooth ride. In a nutshell, I would say that my decision of learning with e-Six Sigma was worth the efforts & time. I would wholeheartedly recommend it's courses to all. Hats off to team e-Six Sigma!

Deepesh Nambair

Head of Manufacturing | Etete Milk Processing

It was an awesome Learning Experience with e-Six Sigma. It is the best place to learn Lean Six Sigma to enhance your skills. The entire Learning Process was beautifully designed. The Support Team was very helpful. Thank you Team e-Six Sigma!

Santosh Ambhore

Sr. Industrial Engineer | Jaya Hind Industries Ltd

It was a nice experience going through the Lean Six Sigma Green Belt Program with 
e-Six Sigma. I would specially like to thank the Expert's Team- Rakesh & Alex, for their continued efforts to provide feedbacks against every AWYL Activity & also to others who are related directly/ indirectly in this process.

Sambit Chatterjee

Asst. Operations Manager | Addicor Technologies

It was a good Learning Experience from Team e-Six Sigma. I liked the way the course was divided into different chapters for easy understanding, followed by AWYL Activities for each chapter and Expert's Feedback after each activity was very helpful.
Thank you e-Six Sigma!

Revanth Varma Vatsavai

Business Intelligence Analyst | PrimEra Medical Technologies

e-Six Sigma is a wonderful platform to learn Six Sigma. 70-20-10 Approach gives you great Learning Experience & Exposure. AWYL Activities are really good as they make you think & solve the problems. Wonderful Team of Mentors for Activity Assessment. The Support Team is always available for any queries & assistance required. If you want to learn Six Sigma, e-Six Sigma is the best platform. Great work Team e-Six Sigma!

Harshal Kale

Operations Manager | Snowlan Epicure

The entire Learning Process was great. AWYL Activities made it a totally different level of Learning Experience. Amazing Experts helped me throughout my journey. The Support Team was very helpful in resolving all my queries in a timely manner. Good luck e-Six Sigma!

Afsha Khan

Data Partnership Specialist | Gracenote

The most awesome thing with e-Six Sigma is its training model. It's a right mix of theory and practical activities. Also, the support I got throughout was just overwhelming for me. Really, e-Six Sigma is the best place to learn Six Sigma. Go for it without a second thought.

Subhasish Sengupta

Executive Assistant to CHRO | Schaeffler India

Wow Learning Experience! Initially I thought, being an Online Course, whether I can learn efficiently or not, but now I can say that one of the best support it provided during program. You get solutions of your queries within minutes by the best Support Team. With help of expressive videos and systematic notes provided by e-Six Sigma, I got knowledge which I can use in my day-to-day as well as professional life to increase the efficiency. Thank you e-Six Sigma!

Sujit Bhaygude

Sr. Analyst- Procurement | Flex

It was a great learning experience with e-Six Sigma. The Study Material, e-Learning Videos & Real-Life Examples were good and easily understood. Now, I can think in a different way & use Six Sigma in professional & personal life. Thanks to e-Six Sigma team for the help & guidance. The valuable feedback after every AWYL Activity helped me a lot to improve. I will surely continue our learning bond.

Aditya Lingayat

Quality Assurance Engineer | Keihin Fie Pvt Ltd

It was a great learning experience with e-Six Sigma! In beginning, I was a little hesitant about Online Learning but the way Concepts were explained with real life examples and the whole session made so interactive, now I think I made the right decision by choosing e-Six Sigma. The AWYL Activities that help you test your knowledge and apply the recent learnings is one of the best aspects of e-Six Sigma. Moreover, the feedbacks given by e-Six Sigma Experts help you understand the practical application of different Six Sigma Tools. I will definitely recommend e-Six Sigma especially to those who are working and simultaneously want to become Six Sigma Expert.

Shubhanshu Wahi

Design Engineer | Tata Technologies

It was my second Training Program with e-Six Sigma. The main thing I like about e-Six Sigma is 'convenience to learning'. Being cloud-based, you can access the training at any time & device. The International Certification by CSSC (USA) helped me enhance the weightage of my resume that further helped me in getting promoted in the company. Thanks to e-Six Sigma.

Vaibhav Ramdasi

Team Lead | Infosys BPM

It was a nice Learning Experience with e-Six Sigma. The notes after every chapter were really helpful in clearing the exam. The AWYL activities were really well-designed keeping in mind practical application of theory. The chat support was very prompt. Overall, it was really good. I am happily e-Six Sigma Certified now!

Abhishek Rajput

Sr. Consultant | EY

e-Six Sigma is so feasible with audio-visual content, study material & easy interface. I will apply the learnings to hands on work. I will certainly recommend this program to my acquaintances.

Sushant Sawant

Sr. Disbursement Specialist | AllScripts

It was a great learning experience with e-Six Sigma. Study Material, Video, Examples are all good & easily understood. Now, I can think in a different way and use Six Sigma in my professional & personal life. Thank you e-Six Sigma.

Shatrughna Motiwale

Disbursement Analyst | Allscripts