What is Lean Six Sigma?
The term 'Lean Six Sigma' is made up of two concepts as- Lean and Six Sigma.
Lean is a technique to enhance Values for the Customer by removing Waste. Value is anything for which the customer is willing to pay for and Waste is anything which is not adding any Value for the customers.
There are 5 Lean Principles through which 7 different types of Wastes are removed to maximise the Values for the Customers, using minimum resources. It is based on the concept of 'Continuous Improvement'.
Six Sigma is a disciplined & data-driven methodology that eliminates defects from any process, products or service, delivering 99.9996% efficiency & accuracy.
In other words, Six Sigma is a Quality Improvement methodology that strives for 'Perfection'. It is a set of qualitative & quantitative tools & techniques such as control charts, process mapping, statistical process control, SIPOC, etc.
Six Sigma is commonly expressed in metrics form as 3.4 DPMO (Defect Per Million Opportunities). In simple words, it means, Six Sigma delivers only 3.4 defects out of 10,00,000 units.
The the term- Six Sigma, Sigma is an unit to measure quality and Six denotes acceptable level of quality.
Six Sigma has two methodologies, best known as- DMAIC and DMADV.
DMAIC stands for Define-Measure-Analyze-Improve-Control and used to improve existing process whereas DMADV stands for Define-Measure-Analyze-Design-Verify which is used for starting a new process.
Six Sigma is currently being used by almost all the prominent companies in India and the world across industries & domains.
Six Sigma History
Six Sigma was invented by Motorola in 1986. Mr. Bill Smith, who headed the project is known as 'Father of Six Sigma'.
Motorola recorded a remarkable savings of $16 billion as a result of Six Sigma in only seven years. Six Sigma also helped Motorola to win a highly prestigious 'Malcomn Baldridge National Quality Award' in 1988.
Later on, in early 1990's, Mr. Jack Welch implemented Six Sigma at General Electric that gained the attention of the world.
Six Sigma was heavily inspired by numerous quality improvement methodologies of the six preceding decades such as Quality Control, Total Quality Management (TQM) and Zero Defects based on the work of pioneers such as Shewhart, Deming, Juran, Ishikawa, Taguchi and many others.
With increasing awareness about Six Sigma and its Benefits in the Corporate World, there will be a huge demand for Six Sigma Certified Professionals in India and in the world in near future.
Frequently Asked Questions
Lean Six Sigma has multiple levels for learning such as as Lean Six Sigma Yellow Belt, Lean Six Sigma Green Belt, Lean Six Sigma Black Belt & Lean Six Sigma Master Black Belt. Those who successfully undergo these trainings would be treated as Certified Lean Six Sigma Professionals.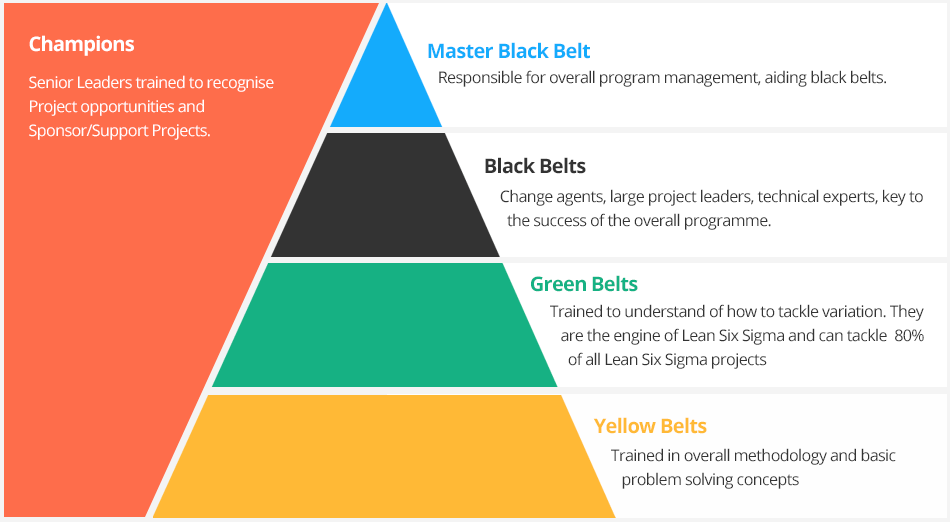 Anyone who has a flair for Lean Six Sigma can enrol for the Training Programs. There is no Eligibility Criteria as such however the learner should be minimum under graduate.
We generally recommend college going students to go for Lean Six Sigma Yellow Belt. Early stage working professionals with an experience of up to 5 years to go with Green Belt and with an experience of 7+ years to go for Black Belt.
There is a wrong perception spread by many training providers just to increase their revenue by selling more no of courses. Every lower belt is a subset of higher level. It means, curriculum for Yellow Belt is by default gets covered in Green Belt and so does that of Green Belt in Black Belt. Most training providers don't reveal this.
We recommend the under graduate students to start with Lean Six Sigma Yellow Belt. The working professionals with up to 5 years of experience can start with Lean Six Sigma Green Belt whereas professionals with 5+ years of experience can start with Lean Six Sigma Black Belt.
Yes. All our courses are accredited by 'Council for Six Sigma Certification (USA)' which is an Official Industry Standard for Six Sigma Accreditation for Six Sigma training providers world-wide. The accreditation to our course can be verified at- CSSC Website.
Absolutely yes. We designed our online courses to add significant value to the class-room courses by offering Convenience of learning at anytime, anywhere & on any device (Laptop, Desktop, Mobile, Tablet, etc). Also, the learner can control the Pace of his learning, repeat the videos for unlimited no of times & even revise to fill the gap in learning.
Additionally, the learners do not require to invest his time, money, efforts at all unlike traveling to the training venue. The learners can ask any number of queries on our 'Live Chat with Experts' function until all the doubts are cleared, which is not possible in class-room training due to large group learning together.
Online training is served completely keeping an individual in mind. Everything is personalized & focused on Single Learner offering the best learning experience.
e-Six Sigma does not believe in Pass/ Fail system. It offers a grading pattern. Depending upon your total score in the Activities at the end of every chapter and the final Proficiency Test, a grade is assigned automatically. In case, you get a lower grade then you can re-appear for the Test for 5 times to improve your grades without any additional charges.
You will be rewarded with an Accredited Certificate by Council for Six Sigma Certification i.e. CSSC (USA) in PDF format. The Certificate contains your name, grade, Certification Number & Date and Seal of CSSC which can be verified by any employer as well.
No. The certificates issued by e-Six Sigma do not state that the course was taken online or e-learning mode however nowadays, it does not matter whether you learn a specific certificate in classroom or online but what you learnt or what knowledge you grabbed.