Lean Management Training & Certification
Overview
Lean Management is an approach that seeks to eliminate any waste in a business process by cutting out steps that don't create value.
The waste can be in multiple form with multiple causes assigned to them however with Lean Management, you will not only remove waste but also be able to increase the value of whatever you provide, you'll also be able to pass the savings onto your customer and potentially be in a position where virtually no one can compete with you.
In other words, Lean management is an approach to running an organization that encourages continuous improvement, a long-term process where small changes are implemented systematically. Changes to processes are incremental and increases quality and efficiency.
Accreditation
Lean Management is accredited by the 'Council for Six Sigma Certification (CSSC)'. It is an USA-based Official Industry Standard for Six Sigma Accreditation for Six Sigma training providers world-wide. The accreditation to our course can be verified at- CSSC Website.
Highlights
International Certification with Life-Time Validity
Curriculum aligned with Body of Knowledge of CSSC
Accessible at Anytime, Anywhere and on Any Device
High Quality e-Learning Videos and Notes
Hands-on Practical Experience through Unique AWYL Activities
100% Passing Assurance for the Proficiency Test
Live Chat with Experts & Instant Technical Support
Curriculum
The Curriculum for Lean Management Course is distributed over 4 Chapters as below:
| Sr No | Chapter Title | Key Topics |
| --- | --- | --- |
| 1 | Introduction to Lean Concept | Continuous Improvement Approaches, Lean Concept, What is Waste & Muda, Five S, Just-in Time Manufacturing |
| 2 | 5 Lean Principles | 5 Lean Principles- Value Stream Mapping, Takt Time, 5 Why's & Ishikawa, Load Balancing, Mistake Proofing |
| 3 | Application of 5 Lean Principles | Application of Lean Principles, Examples & Case Studies |
| 4 | Lean Management | What is Lean Management, Lean Leadership |
Eligibility
There is no specific eligibility criteria for enroling to Lean Management Course. Anyone who has a flair for learning Lean Management can enrol.
However, it is preferable that the applicant has atleast cleared higher secondary examination.
Training Model
e-Six Sigma has been awarded for its Proven 'Training Delivery Model' that offers an extended opportunity for the trainees to gain Practical Knowledge.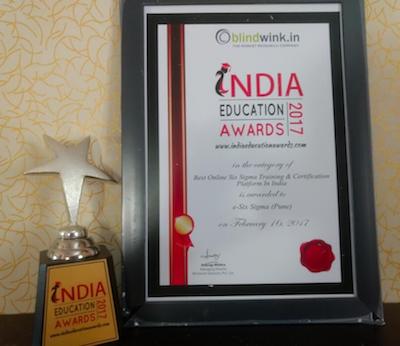 The curriculum is divided into a number of chapters which consist of 3 sections as:
e-Learning Videos: Short-length, Attractive & Easy to Understand
Study Material: Enriched with Additional Real-Life Examples for Better Understanding
AWYL i.e. Apply What You Learn Activities: To gain Practical Knowledge
The main purpose of AWYL activities is to motivate the learners to gain Practical Experience by performing the mandatory activities at the end of every chapters, which are assessed by a Team of Experts providing their feedbacks.
The trainee needs to submit AWYL Activity that carries a weightage of 5 points each. Total points for AWYL activities for Lean Management are 20.
After completing all 4 chapters, the trainee needs to appear for the Proficiency Test which is of Multiple-Choice Pattern carrying 1 point each. Total points for the Test for Lean Management are 80.
Depending upon the consolidated scores in AWYL Activities & the Test, a Grade (A+, A, B+, B, C & D) is automatically assigned to a Lean Management Certificate, which can be generated immediately after the Test.
We at e-Six Sigma do not believe in PASS/ FAIL system and hence we provide a Certificate to everyone who put efforts to learn Lean Management. If the trainee is not happy with the grade secured, he/ she can re-appear for the Test WITHOUT PAYING EXTRA AMOUNT. We offer 5 Test Credits as Complimentary to every Trainee!
Duration
The trainee requires to complete Lean Management Course within 120 Days.
The feedbacks from the past trainees suggest that the duration is sufficient to complete this Course.
Fee
The fee for Lean Management Training inclusive of e-Learning Access for 120 Days, Study Material, AWYL Assessment, Proficiency Test & Certification is:
INR 5999 INR 4999 (For Learners within India)
USD 129 USD 99 (For learners outside India, Request a PayPal Payment Link here)
Enrol NOW and get EXTRA BENEFITS as:
5 Test Credits for ABSOLUTELY FREE!
Convert fee into Easy EMI (Using Select Credit Cards)
Attractive Group Discounts (Minimum 3 People)