Six Sigma has multiple levels of Expertise, they are also called as- Six Sigma Belts or Certifications such as Yellow Belt, Green Belt, Black Belt & Master Black Belt. These Belts generally play different roles in implementing Six Sigma at the organizations.
There are even some Training Providers that offer Six Sigma White Belt which is a topic of debate since some Six Sigma Experts believe White Belts are nothing but a trick to fetch business.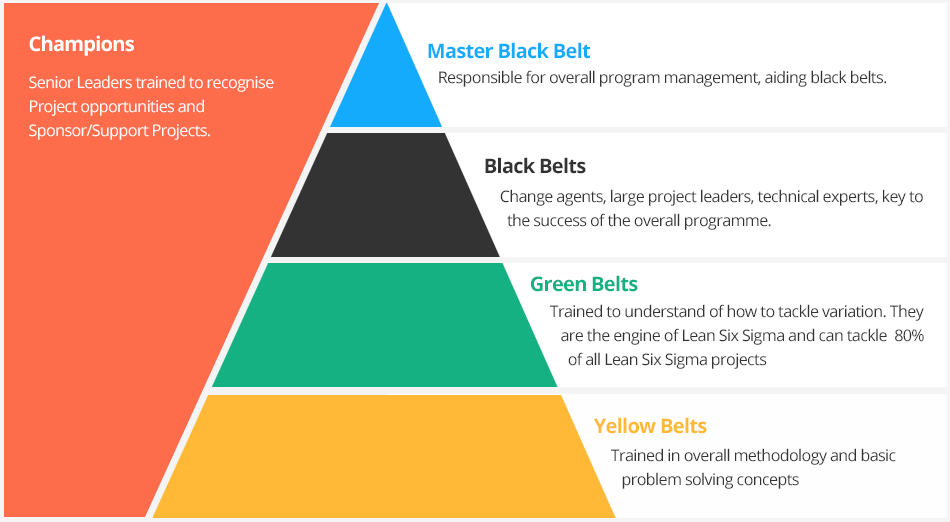 What is Six Sigma
Six Sigma is a world-wide renowned & proven Quality Improvement Methodology that focuses on identifying & removing the defects or errors from any product, service or process using a set of 100's of tools & techniques, offering an efficiency level of 99.99966% or only 3.4 defects per million opportunities.
You can learn more about it with our recent blog- What is Six Sigma?.
Levels of Six Sigma Certification
There's no doubt that gaining a Six Sigma Certification is one of the best moves anyone can make for their career. Whether you work in Computers, Logistic, Financing, Manufacturing or any other domain, everyone can benefit from the experiences and knowledge that Six Sigma offers.
It is always good to know when and where to start but it can be tricky, especially for Working Professionals looking to grow in their Careers. Each Six Sigma Belt or Level entails its own criteria to qualify, competencies, responsibilities to be followed in Six Sigma Projects and of course, rewards!
Six Sigma Yellow Belt
The goal behind using Six Sigma methods in practice is to bring value to an organization. This is done by improving efficiency, reducing waste, and most importantly, decreasing the risk of production errors.
Six Sigma Yellow Belt Training & Certification offers fundamental knowledge of Six Sigma methodology, overview of DMAIC framework and basic quality improvement techniques. Certified Six Sigma Yellow Belts generally serves as a Support Members in Six Sigma Quality Improvement Projects handling significant responsibilities.
Six Sigma Green Belt
The first certification level you will experience the greatest reward at is achieving a Six Sigma Green Belt.Six Sigma Green Belt involves detailed study of DMAIC framework that stands for five interrelated phases of Quality Improvement Project as Define-Measure-Analyze-Improve-Control. It emphasizes on the real-time application of different quality improvement methodologies.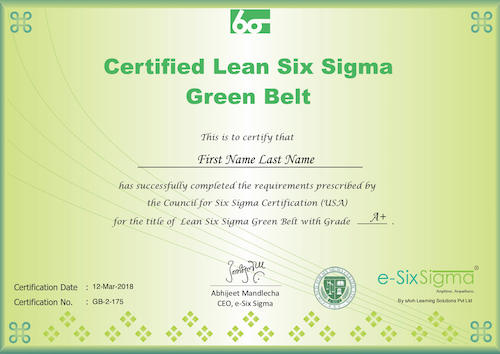 With Green Belt Certification, one can gain capabilities to perform Data Collection & Data Analysis, Primary Statistical Analysis, handle minor responsibilities and even at times, they can drive small-scale Quality Improvement Assignments independently. In short, Six Sigma Green Belts are valuable assets for Project Managers since they can add significant values to large scale Six Sigma Projects.
Six Sigma Black Belt
As a Six Sigma Black Belt, one begins to experience practicing Six Sigma Methodology full time. Generally, after three years of Six Sigma Practical Experience and working on a handful of projects, one can become a Certified Black Belt.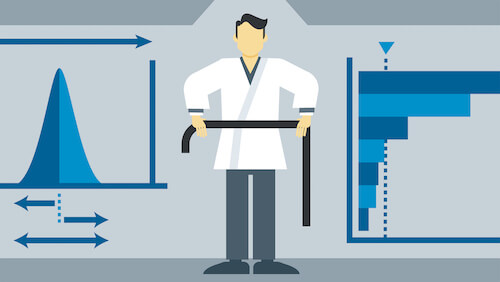 Six Sigma Black Belt Professionals serve as the Project Leaders and guide other employees towards bringing value to the Project. As a result, Black Belts are naturally the first to mentor other Belts. This may include performing training session, classroom discussions, or other forms of mentorship.
Certified Black Belts thoroughly understands the Six Sigma Tools & Techniques including Root Cause Analysis, Value Stream Mapping, and Simulation Mapping. Likewise, they must be able to practice the methods of DMAIC, Lean and overall Total Quality Management.
Six Sigma Master Black Belt
The ultimate Six Sigma Level or Certification is Master Black Belt. Master Blacks Belts have the most thorough, comprehensive understanding of the methodology. They work hand in hand with upper management and executives, reporting to them the status of projects. Ideally, a Master Black Belts works like a liaison, relaying information between senior advisors and team operators.
The generic criteria at most of the Training Providers for Master Black Belt is serving for more than 5 years as Black Belt and successfully completed over 10 Six Sigma Projects and demonstrate how he can contribute to lead the overall progress.
Which Certification is Right for You?
Although there are no guidelines available for opting any of the Six Sigma Levels, we at e-Six Sigma strongly recommends to go step-by-step. One can start with Green Belt as well since it covers the curriculum of Yellow Belt which is best suitable for a College Pass-out or a Professional about to begin his Career.
One should acquire even the minute insights by personally applying the knowledge of each level to proceed further. The implementation can be done via applying a single tool or full-fledged Six Sigma Quality Improvement Project.
In Simple words, learn a little in one go, apply to gain more insights and climb to the next level!
So what are you waiting for? Just Start to achieve new heights in your Career!